Weighted Stuffed Animal
#1 Weighted Stuffed Animal
"TikTok Made Me Buy It!!"
♥︎

  

Boosts Mood


♥︎  Reduces Anxiety

♥︎
Improves Sleep

♥︎ 
Hugs You Back
Hug away stress, anxiety, and sleepless nights within seconds
⭐⭐⭐⭐⭐ Thousands of 5-star reviews!
Introducing the original weighted stuffed animal. Moon Pals have been helping people reduce anxiety and improve sleep for years. Their heavy 5lb design will calm your nerves through deep pressure stimulation, and jumbo arms give the best hugs! 
Gift yourself squishy, soft, cuddly hugs today with this limited time TikTok discount. 

✦ Size - 22" long x 16" wide
✦ Weight - 5lbs
✦ Fabric - 100% polyester cuddle velboa fabric
✦ Fill - non-toxic 100% virgin poly-pellets from prime select grade polymers, BPA free/odorless
✦ Stuffing - durable polyester fiberfill
✦ Details - embroidered appliqué face, paw, tummy designs
✦ 100% virgin poly-pellets & durable polyester fiberfill
✦ ✔︎ odorless ✔︎ non-toxic ✔︎ BPA Free
✦ Suitable for ages 3+




"Able to give hugs that can save the world."- The New York Times

"The quality is amazing, and the book it comes with is absolutely stunning"-Buzzfeed

"The best gift for for 4yr olds"-Today Show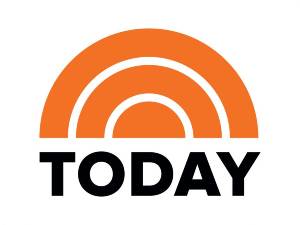 Moon Pals in the Wild!
"This is actually how I wish my cat would treat me; like I always want to cuddle him. But it is actually so comforting."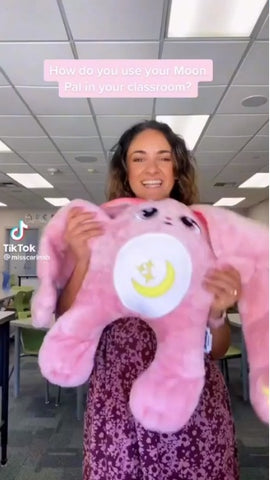 "As a teacher I use to help students focus, when a stressed out teacher needs a hug, or as a reading buddy"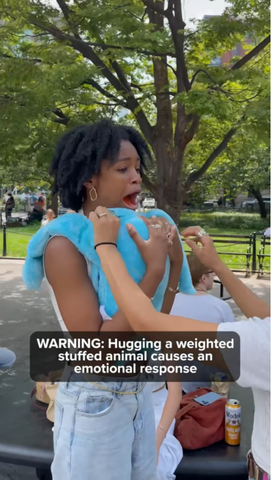 "I can't stop hugging my Opal. I love Moon Pals."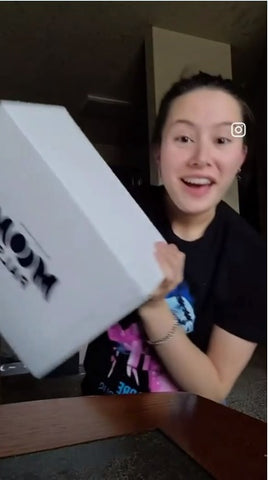 "Not gonna lie; I really needed this hug. This is very effective."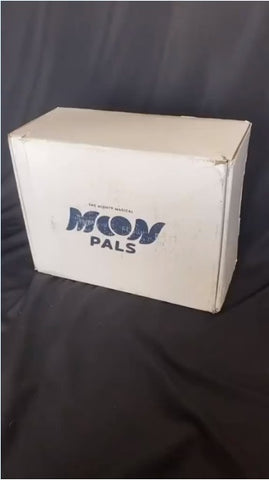 "Stress was making me irritable and unmotivated and I needed a hug. Nova definitely delivered."
Shop Now
FEEL THE BENEFITS
Moon Pal plushies harness the power of Deep Pressure Stimulation with their signature design and heavy weight.

✔︎ Sleep better
✔︎ Increase focus
✔︎ Soothe anxiety
✔︎ Boost mood
✔︎ Regulate stress

Hugs from your Moon Pal let your body know to calm down and help you feel less overwhelmed.

HUGS FOR ALL
Everyone can benefit from the healing comfort of unlimited hugs. Moon Pals were created to help both children & adults.

The weight from your Moon Pal is concentrated to target stress points so you feel safe and warm in any position.

Moon Pal arrive nicely boxed with a beautifully illustrated original storybook and are the perfect way to gift a soothing hug ♥︎





How to Hug
Your Moon Pal



Engineered to support calmer days and more restful nights, the best hugs come from Moon Pal's magically weighted body, arms, and legs! Hug your Moon Pal anytime you want to reset, recharge, focus, or wind down.
Moon Pal's arms are designed with individually weighted compartments that form perfectly around your shoulders and neck to provide dynamic weighted pressure that optimizes an anti-anxiety therapeutic experience AND feels like a real hug!
Magically weighted hugs use targeted pressure points to optimally disperse Moon Pal's weight. Lay Moon Pal across your body to recall the sensation of being held and enjoy ultimate stress relief and deeper sleep whenever you want.
Moon Pals's weighted pressure is specifically helpful to feel calm and focused. Their curved, horseshoe shaped legs, dynamic arms, and malleable body ensure weight is always administered for an incredible feeling in any position.
5
Tactile Sensory Experience
Moon Pals are crafted with soothing, durable, plush fabric created specifically for cuddling and snuggling. You can also touch, fiddle, and stroke Moon Pal's floppy, gradient, ears for an enriching multi-sensory experience!